Pricam Automation has extensive technical expertise, backed by world class suppliers, to enable the accurate measurement and control of liquids, gases and compressed air across all industries including: Water/wastewater, Food and Beverage, Pharmaceutical, Power, HVAC, Petro/chemical and, general Manufacturing & Processing.
We can help you select the right flowmeter and correctly implement and commission your meter including set up, to ensure a long lasting and successful outcome.
Call us on 03 9532 2235 for Sales – Hire – Commissioning – Support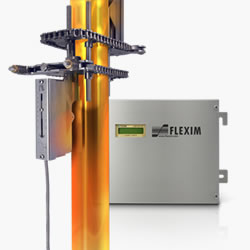 Flowmeters for Extreme Temperature
The patented WaveInjectors from Flexim thermically separate the clamp-on transducers from the hot or cold pipes allowing for reliable and accurate measurement from -190C up to +600C.
The WaveInjector is the ideal solution for many applications in the Chemical, Petrochemical and Oil and Gas sector.
Your benefits:
Very wide turn down ratio enabling the measurement of both low and high flowrates.
No Leak points.
100% plant availability – No process shut-down for Installation/ Inspection
Maintenance-free thanks to the permanent coupling pads
Remote Monitoring – monitor flow, level, temperature and more.
Pricam offers a scaleable solution for 3G remote monitoring. The Process Monitor modem has the capability to accept 4 analogue inputs and 3 digital inputs as well as Modbus RTU and SDII2 protocols.
Easy-to-navigate, password protected webhosting packages presents the data on your laptop or smart phone in graphs and numerical form with the ability to download historical data in csv format.
Stay updated – Email/SMS alarm messaging with acknowledgment allows recipients to view alarm status updates.
Solar powered, battery powered and 8-30 VDC versions available.
Expertly configured and customized packages available.
Flowmeters for hazardous areas.
Pricam Automation offers a range of flow measurement solutions for Hazardous Areas, including for intrinsically safe and explosion proof applications.
All with IECEx certification.
FLEXIM clamp-on flowmeters for permanent install are available with IECEx certification for use in zone 1 and 2 areas.
Portable clamp-on flowmeters models F/G 608 are certified for use in zone 2 areas. See more
MACNAUGHT positive displacement flowmeters for liquids are available with intrinsically safe approved sensors and can be used in combination with intrinsically safe approved displays and controllers, including batch controllers. See more
FLUIDWELL offers a wide range of  intrinsically safe and explosion proof digital displays, flow computers and controllers. See more
Call our sales team for expert advise on your application ph: 03 9532 2235
For Flowmeter sales, hire, on-site services & information call us now (Melbourne, Victoria, Australia) on 03 9532 2235, or use the form below.